The Maldives consists of 1190 islands grouped in 26 atolls, all of which are situated atop a submarine ridge that runs 960 kilometres from north to south. With one of the richest marine ecosystems anywhere in the world, it is a fly fisherman's dream.
When we started scouting the fly fishing-possibilities we were targeting many different species, including triggerfish and bonefish. Today, we almost exclusively target GTs, with bluefin trevallies, bohar snappers and occasionally sharks as welcome bonus catches.
In our experience, GTs don't like fishing pressure. Fish the same reefs and flats over and over and the fish will soon learn and stay out in deeper water. For that reason, we have developed a product with maximum flexibility and long operational distance.
We found that nothing would fill our needs better than a speedboat carrying an inflatable dinghy on the front deck. We can literally choose any atoll with a guest house as our base for a trip, and from there we have a daily operational distance of up to 50 kilometres.
To complete our setup, we added a professional fly fishing guide on every trip. One of our local crew members already had impressive fish spotting skills so our guide taught him about fly fishing and he has become a great help for our guests. 
We now pride ourselves of being the leading fly fishing operation in the Maldives – hooking, fighting and landing more GTs on the fly than anyone else in the Maldives.
Welcome to Maldives on the Fly: Speedboat, dedicated crew, easy and efficient logistics and a price that beats everything else out there.
Maldives On The Fly ITINERARY
PRICE: From $4000 without flights.
Departure day. Fly overnight and arrive in Male the following morning.
Morning arrival in Male. Domestic flight to chosen atoll followed by boat transfer to guest house.
Eight full days of fishing.
Transfer to Male and evening flight home (or stay at hotel and fly out the next day).
Though fly fishermen have tried their luck in the Maldives over the years, it's less than a decade ago that fly fishing really started to catch on here. It's a challenging and demanding fishery, quite different from wading ankle-deep flats in the Caribbean for bonefish.
If you want to try for GTs (and there isn't a better reason to fly fish the Maldives), you must be prepared to wade deep, fish the surf and walk on rocks and reefs. Not necessarily all the time, as we also fish sand flats and islands but at least some of the time.
While we all dream about catching a Giant Trevally on the fly, it's important to understand that this isn't an easy task. Every hooked GT on a fly rod is an achievement – and every landed fish is a victory!
Managing your expectations might help you enjoy the trip a lot more. If you think that you will catch GTs on the fly every day, this isn't your trip. More realistic expectations would be to get a couple of good shots per day. More than that on great days, and nothing on the slowest days. 
It's hard to succeed, wading the flats and reefs with a fly rod for these fast-swimming predators – but once you do, the taste of victory is super sweet!
Learn more about the leading GT-operation in the Maldives.
We use our dinghy to reach the best fishing spots and all our fly fishing is done on foot. 
Most GTs will be encountered when you are wading a long reef in water that is knee- to waist-deep. If the surf is up, it can feel a bit crazy to jump around between waves but most of the time we do try to pick spots where it is relatively calm. Here, we will get shots at GTs cruising in the surf or following reef lines.
Wading these reefs will also give us shots at bigger bluefin trevallies and bohar snappers. The wadeable parts of the reefs are typically rocky so we are not damaging any live coral – but they can be really hard on your boots so bring the best you can find! 
On some islands, we find GTs on the flats. It doesn't get any better than that. Often, they can be spotted over long distances, and if we are lucky enough to hook one on sand, there is minimal risk of breaking them off. 
At times, the most productive approach can be to stake out for a while, on points or near channels when the current is pushing hard. But we'll let you know what to do when we get there … just bring your A game.
You don't need lots of different flies for chasing GTs in the Maldives. Large baitfish flies on sturdy hooks in darker colours such as black, blue and purple are our go-to flies. We throw those to anything else that might show up as well.
Darker flies are often great for fishing the surf and where waves roll on to the reef and create foam and white water. They stand out much better than lighter flies and are easier for the fish to see. Often, they also fish well near coral or rocks, even in calmer conditions. 
Lighter coloured flies, like tan/white are often better for flats, sandy points, and edges with light bottom. In these conditions the fish easily see the fly, and a lighter pattern is less intrusive than a dark one. 
We haven't used poppers much on sight fishing, but we have had good results blind casting poppers in poor light, hooking bluefins, sharks and GTs. 
If we want to fish a lighter rod for smaller species, the go-to fly is a crab pattern. Crab flies will catch smaller bluefin trevally, spotted trevally and most other species we might come across when fishing a lighter rod.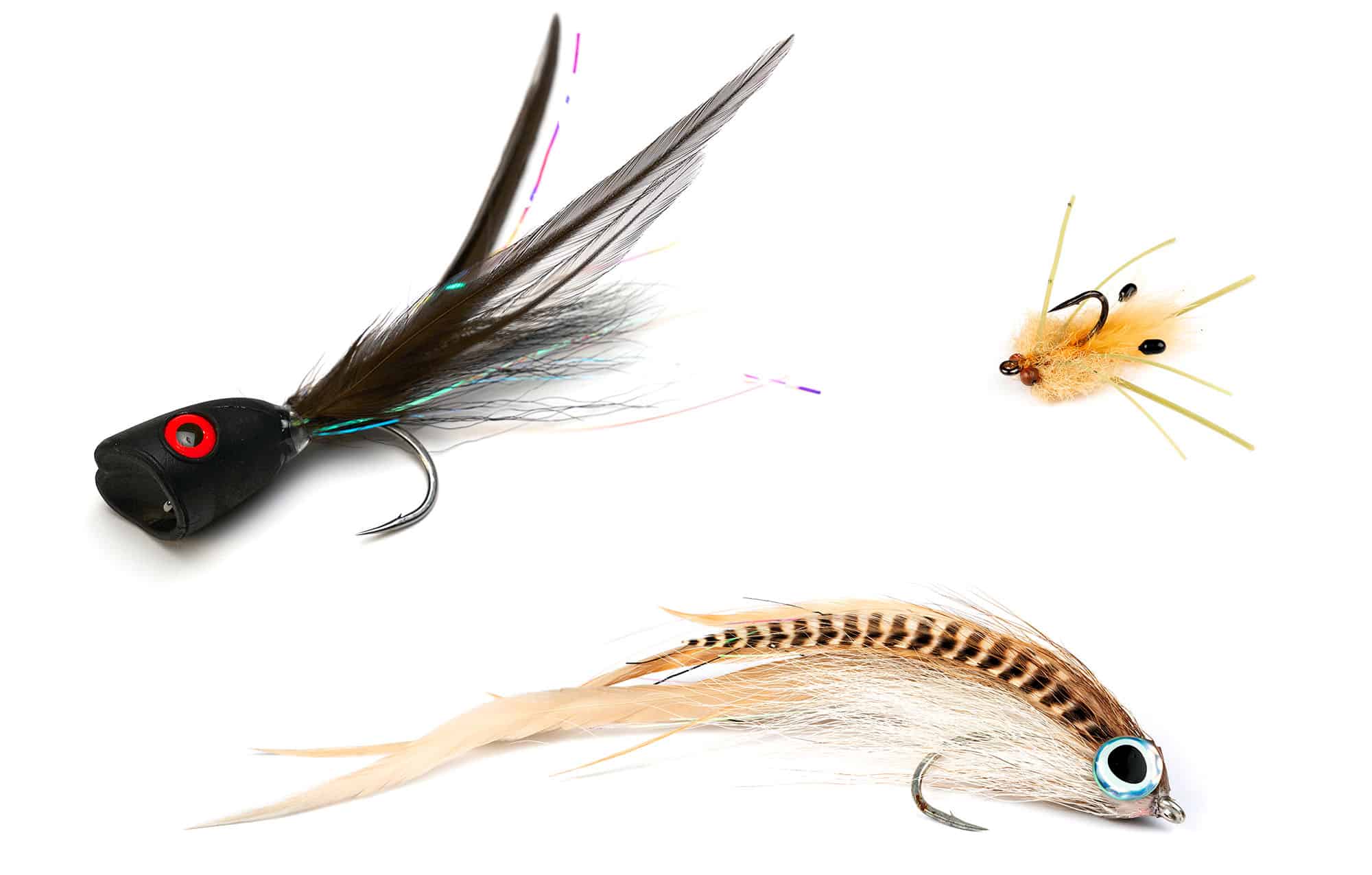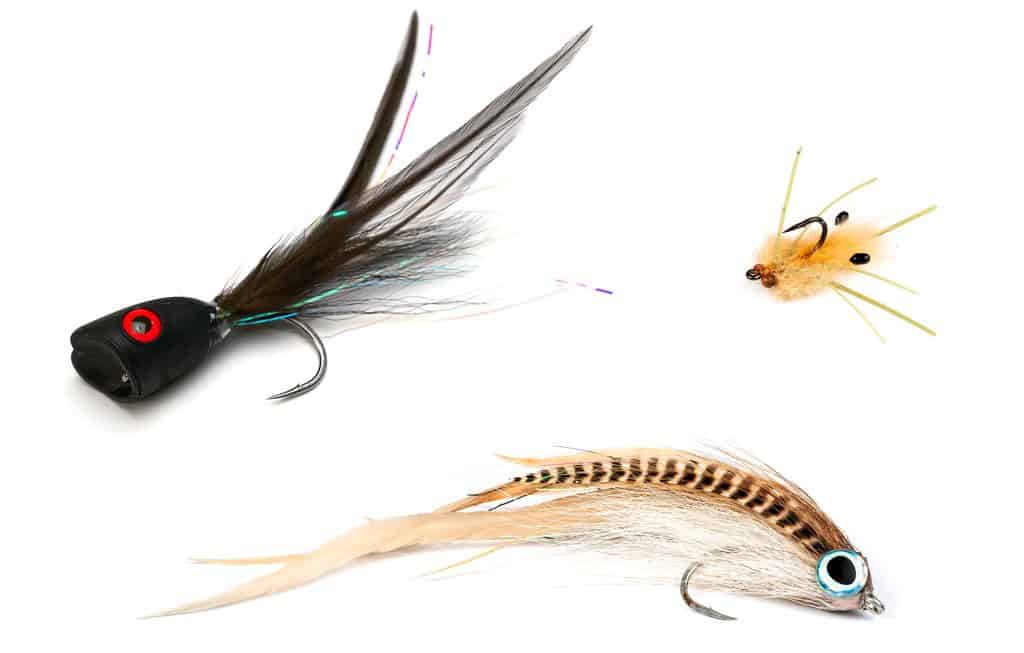 Rods:
9' #11 or #12 saltwater rods for GT
9' #8 or #9 saltwater rods for smaller trevally species etc.
Reels:
#12 saltwater reel with 300 m 80 lb braid backing
#8-9 saltwater reel with 200 m 50 lb braid backing
Lines:
#11 or #12 floating tropical saltwater lines with extra strong core – 60 lb or more
9' #8-9 floating tropical saltwater lines
Leaders:
Tapered saltwater leaders 16-25 lb
80-125 lb mono or fluorocarbon